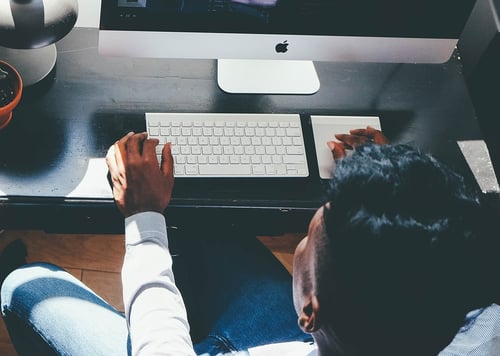 Our Scholarship
We have helped forward-thinking organizations open the doors to their next incarnation using technology, creativity, and ingenuity. We are passionate about equal opportunities and understand that there is still progress to be made in minority representation and opportunity in the fields of science, technology, engineering, and mathematics (STEM).
In 2016, only 22% of degrees in STEM were earned by underrepresented minority students.
With this in mind, we wish to assist underrepresented minority students who are passionate about STEM and believe in the merits of using technology and creativity to enhance our everyday lives.
You should apply to this scholarship if you are a minority student passionate about STEM and are a believer in using technology to transform our lives for the better. We're excited to hear your ideas, your passion, and where you see yourself contributing to this subject.
Scholarship Amount
$1,000
Eligibility
All applicants must be enrolled, or due to be enrolled, as a full-time undergraduate or graduate student at an accredited US college or university or the semester that they are applying to receive the scholarship.

Applicants are required to have a minimum 3.0 GPA.

Domestic, international, and undocumented students may apply.

Students attending online universities are welcome to apply.

Applicants should be an underrepresented minority majoring in a STEM-related subject or a high level of interest in the STEM field. If selected, there will be verification of minority status via school or other.
Required Application Details
Please write a 1,000-word essay answering the following questions:

How do you plan to use technology to improve the lives of others?

How do you feel that underrepresented groups can be encouraged to go into the STEM field?

What businesses do you admire that encourage minority students to pursue a career in the STEM field?

Please submit proof of enrollment or an acceptance letter in an accredited learning institution. We will accept a recent transcript, acceptance letter, or tuition bill. Please note: if you are in the process of applying for colleges and universities, please indicate your current school and submit a document with the schools you have currently applied to. If you are selected for the scholarship, we will ask you to provide proof of enrollment for your college or university at that time.

Please submit Sygma Technology's Promotion of STEM Education For Minority Students Award form linked below. Applications submitted by email may not be reviewed.
How to Apply
Please follow the form link to submit your information to apply:
Sygma Technology's Promotion of STEM Education For Minority Students Award
Full Name

Email Address

College or University Name

College or University Mailing Address

Proof of Enrollment - Transcripts, tuition receipt, or acceptance letter will be accepted. Please submit as .jpeg, .pdf, or .doc

An essay answering the above questions. Please submit as .pdf or .doc

Confirmation and acceptance of terms and conditions
Application Deadline
All applications must be submitted by August 15, Annually.
Winner Announcement
A winner will be selected and notified via email by August 30, Annually.
2019 Winners
Sygma Technology is excited to announce the following winners for our 2019 Scholarship:
Jin Ah Park from Northeastern University

Kaylin Moss from Marist College

Victoria Irene-Marie Medina Hicks from Texas A&M University
To read the winning essays, please click here.
Additional Scholarship Details
The winning candidate will be selected by a panel of judges from Sygma Technology.

The scholarship is available on a yearly basis and is non-renewable.

Questions about Sygma Technology's Promotion of STEM Education For Minority Students Award can be directed to sygmatechscholarship@gmail.com.

The scholarship funds provided by Sygma Technology will be sent via check to the college or university. Funds are to be applied to qualified college expenses (including tuition, fees, books, and on-campus room and board) for the current academic year.
Privacy Policy
No applicants will be contacted regarding anything other than their application.

All information (proof of enrollment, essays, and email) relating to applicants is destroyed as soon as a winner is paid.

Applicants' emails will not be used for any marketing purposes. Sygma Technology and its representatives will not knowingly sell, share, rent or otherwise transfer your information other than in accordance with the terms set forth in this Privacy Policy.

Applicants will not be asked to provide any sensitive information for their application or to claim their award if they are to win the scholarship.

There is no fee to apply to this scholarship or for the winning applicant to claim their award.

Applicants retain all rights to their work.
Terms & Conditions
All submitted photos and essays must be original work of the applicant. Only one submission may be entered per student, per year. Duplicate entries will be disqualified. All scholarships are non-renewable. By submitting an application to Sygma Technology, you certify that all the information you have provided is original, accurate, and complete.
Scholarship Resources
The Federal Student Aid site has important information that may help you on your scholarship journey. https://studentaid.ed.gov/sa/types/grants-scholarships/finding-scholarships