You cannot speak of contemporary approaches to software development without mention of the word Agile. We discuss this in more detail in our post Keeping Outsourced Developers on Track, but in brief, this approach to software development for startups is one that's iterative, prizes consistent testing and responsivity, and works towards the best possible software with the resources available.
Agile Development centers meaningful interaction between client and developer and is as much an approach to project management as it is to technological development.
In the below image from Capterra, the process of launching software is outlined clearly and delineates the agility inherent in the model: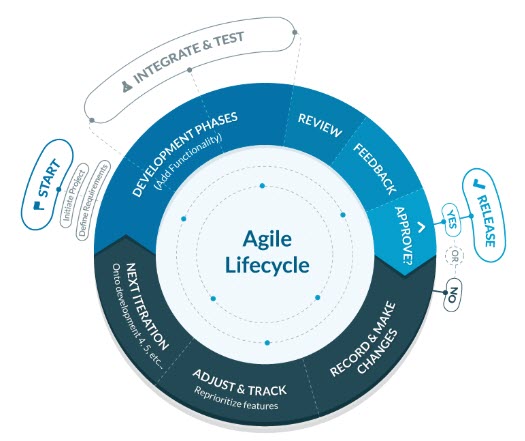 Agile Development typically embraces (Continuous Integration / Continuous Deployment) CI/CD Methodology, which is based on having centralized information repositories and standardized processes as well as short feedback loops between client and developer. Having to repeat tasks or perform them manually is the enemy of efficient software development for startups. The more you can avoid this, the more streamlined your process will be.
Add to this a robust, automated testing framework and you are well on your way to having an intelligent approach to software development for startups.
Embracing prototyping and MVP Development can form a vital part of your development process. By creating simplified versions of your final product, you will quickly learn what works and what doesn't, and you will also have something to show when looking for software funding.
Next question? Like children in the backseat of a car on a long road trip, you may want to know, "How long till we get there?"